June 2014.
I haven't posted an update on my site in years! Well, I've been busy. I look back at the last 7 years and I just haven't had a lot of time to ride, but that might change. I went through my bike and it's primed to ride. My stock CRF150F is gone. Here's a list of what my bike is today.
-233cc Hi-comp. piston
-EO Stage 2 cam
-ported head
-H/D Clutch springs
-CRF230 Carb (ported)
-Hlebo's Shock
-CR85 Forks (revalved) w/ BBR springs
-Allied Racing Front Brake caliper bracket
-Crf450 Front Brake Caliper
-Bill's Pipe (Custom made. That's a long story)
-Maxxis I.T. Tires
-14/50 520 chain
-Pro Taper bars
-Work's Connection Clutch perch and Lever
-No-Toil Air filter
Nov. 21, 2007.
HOLD THE PHONE! Looks like my brother just picked up a CRF150R. What's that mean? That means "more mods." Looks like I have to do some homework for the new bike.
Nov, 15, 2007,
I have a lot of blah-blah in this site. I'll be deleting a lot of it and just leaving the info you actually want. head's up.
Oct. 29th, 2007
I guess I was pretty busy this summer. I took the whole summer off and didn't ride much at all. I just went for a ride last weekend, for the first time in a long time and man, I'm ready to go! I never did put the dual caliper front brakes on, but I need to do that. I'm hoping to do that soon. Stay tune.
June 11, 20007
I took the bike out a couple weeks ago and it looks like the CRF230 linkage with the CR85 shock wasn't too bad at all. The rebound clicker had to be all the way out (fastest) because I was having a hard time getting traction. After adjusting that, it worked out pretty good.
I do have a CRF150 stock rear spring to pop on there and try out, but I'm going to give this a few more rides. I still have to measure the height of the bike and it's clearance as I'm assuming it could be shorter, but we'll see. If it's shorter, it couldn't be by that much as I didn't lower or drill the CR85 shock and it's maxed out.
I did need to file about 1/32" off the corner of the resevoir because it was touching my frame and I did file about 1/32" off the bottom clevis because it too was touching the CRF230 linkage. It was minor, however: Maybe 5 minutes.
You also have to file the top mount of the frame slightly; just to clear the shock from hitting the mount. Again, very little filing.
I'm still planning on doing a lot of testing on this linkage thing, but for now, it's working out pretty good.
April 16, 2007
It rained on Saturday. Sunday basically turned into a perfectly groomed & watered track. The CRF230 linkage worked fine. It was a little stiffer in the beginning of the stroke, but not bad. I need to see if the CR85 shock will fit with this linkage. I'm wondering if it will fit without drilling the CR85 shock. If it will work, that would be really cool. If it will work, I question how the valving on the CR85 shock will be since the geometrics of the suspension would be changed. I'll look into that on the next ride.
I should point out that my shock is great. Still works fine. I just wanted to try something else. Just wanted a change. With the CRF150R out now, nobody will be making anything for the CRF150F. All new mods will be just that. Totally new from scratch.
April 5th, 2007
Happy Easter folks. Since it's Easter, I won't get to test out my new experiment, but today I have a CRF230 linkage on my CRF150. If you were not aware, this mod will lower your 150 by one inch.
I'm actually not trying to lower my bike. More so, I wanted to see what this linkage would do to the feel of my suspension. I also question if this is the mod for the CRF150 to take a CR85 shock without drilling the clevis. I'll let you know soon.
March, 25, 2007
I took a CRF150R out for a spin again and I have to say again, that's a really impressive motor. I still like my bike better, but that's probably because the CRF150R is a little hard to hold on to. I think I go slower on the 150R because I have to cut the throttle so much. Why? Because the front end comes up a lot. Yeah. it has a lot of power. Luckily for me, I don't feel too bad that I don't own one yet. Why?
Well because Honda just STOPPED RELEASING THE CRF150R BECAUSE OF CAM'S ARE BLOWING UP! hahaha. Yeah, they blow up. Hey man, it's the only thing I can make fun of about the 150R. I'm going to milk this one. hahaha Anyway, that's all for now. Remember? I'm really busy!!!
Jan. 9th, 2007
Howdy folks. I didn't have much to add today. I've been riding a lot with my new setup (The EO pipe) and I'm liking it more and more. I did run into a little problem with it though. The header slightly touches my clutch cable. It's not a big deal, but it is very close. That's about it though. Surely not enough of an issue to discredit it. More power and so damn quiet. I need to ride my brother's CRF150F (which is the same as my bike except for he has a BBR pipe). I need to check the differences again. It's good to take reality checks every once in a while.
When I do get going again, I'll also be running different tires. I've run Michelin Starcross's in the pass. They were really cheap ($25 ea) so I bought them. They're intermediate terrian tires. It's fairly hard terrain where I ride so they didn't hold up well. Knobbies fell apart pretty fast. Eh, they were cheap. I had to try them.
I then ran Maxxis IT's. Wow! What a difference. Those are great tires. Those were cheap too at $26, but they got a price change to $39.99 for 2007. Oh well. The Maxxis IT's were on backorder so I order a Bridgestone 402 for the rear. I've read good review on them. I did do a little shootout of tires somewhere on this site. You'll have to find that.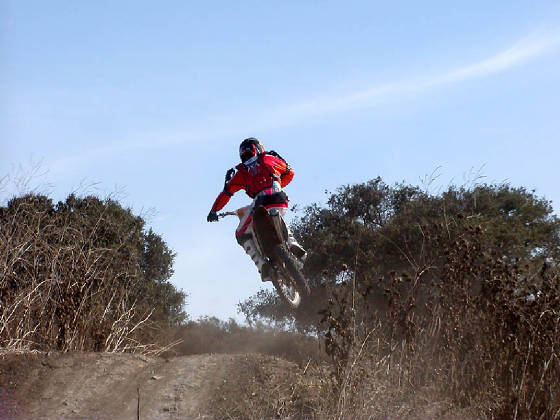 Nov. 5 2006
Folks, I tested the ENGINE'S ONLY pipe for the CRF150 today. The bad news is you'll have to wait a day or two for the review. I have a lot to say. I have to type it out.
I also got a chance to take the CRF150R for a spin. I have a lot to say about that bike too. Give me a day or two. I'll just say, I was really surprised on what I found on both items.
I added a few pics in the sight to keep you busy till then.
Nov. 1, 2006
ENGINE'S ONLY PIPE REVIEW?
BBR vs. ENGINE'S ONLY? It's coming soon folks.
Nov. 2, 2006
Hang tight folks. I'm planning on riding at Metcalf, Calif., this weekend. I'll give a report on some parts I'm testing. This should be fun.
Oct. 23. 2006
Nothing new to report today. I went riding at Carnegie yesterday. The season is almost open to the red sticker bikes (here in California). I can't wait. I want to run down some CRF150R's. It won't be easy though. I saw the dyno on that bike. It's going to be a screamer!!!
Oct 5th, 2006
O.K. The season is almost starting up again. I have a load of 150 friends and they are all looking at the new CRF150R. What do I think of the bike? Luckily for me, I'm not 100% sold on it. I say "luckily" because I don't want to buy anything right now.
I think it's a great bike, but I don't think I'll race out to get one just yet. I'd like to learn a little more about them first.
Also, since I've changed everything on my bike (see the links), I'm really happy with my bike. I have some minor things I have to do to my bike (I'm adjusting the angle of my pegs), but it's running great. Suspension is good. The engine is good.
The CRF150R just makes me know there will be more 150's out there to race around with. That's a good thing folks.
August 29, 2006
I just added a link for "VIDEO." The lastest link on there is video of what I describe below. Supermoto on CRF150's. I got a chance to fiddle with my video editing skills too. haha.
August 28, 2006
O.K. I've been really quiet lately. Life. It really takes a lot of time. Schools starting again for everyone so I'm hoping I can get some time back to ride. We'll see.
Well, my buddies talked me into checking out Supermoto for CRF150
s at the Stockton Fairgrounds. I didn't ride; I only video'd everyone. I'll be downloading some video of that soon. Once I do, I'll let all of you know.
Anyway, what a hoot. The guys had a blast. It takes place on a go-kart track. Pure comedy.
Well, the reason I bring this up is it's sort of turned into a way to really find out which bike and mods really shine.
We picked up an ENGINE's ONLY pipe and we're going to give it a run. I think this could be really fun and knowledgable. I'll be reporting results soon.
August 22, 206
Let's talk some mods.
It's been a while so I thought I'd share a shock mod. On my rear shock, the stock spring was a bit soft. A BBR spring was so beyond unacceptable, I had to go to "plan B," whatever that was. I didn't have many options.
The result? A spacer. I'll post a pic of the spacer as soon as I can, but it about a 1/2" spacer and it made a huge difference. When I post the pic, look for a black washer at the bottom of the shock spring. It's as simple of an idea as it looks. The results, however, are big.
August 2, 2006
Heat waves and summer activities equal "I haven't rode in a while!" My group of riders are doing Supermoto at the Stockton Fairgrounds. I'm trying to talk myself into it, but I'm really a dirt rider. I just don't see it happening.
With that said, I might be riding this weekend (on the dirt). I hope I do, I've tweaked a million things on the bike and I'd like to test them out. It just depends if I have the energy to go out (Got the flu a few days ago). We'll see.
June 30, 2006
Folks, I'd like to warn you about something. If you plan to have kids, just remember that it's a good thing, but it really cuts into your riding time. I haven't been able to get out on the bike for a while.
It's quite surprising to find out how many kiddy b-days I have to attend with my son and all of his pals. They're every weekend!!! Anyway, I guess this will be a good time to change fluids or something I guess.
The only riding thing that might be happening is my friends are trying to talk me into doing SUPERMOTO on the CRF150. We'll see.
June 8, 2006
I just did some changes to my bike. I'll fill you in on what I did very soon, but not until I get to give it a real test on the track. In the front of the house, however, my low end is pretty unreal. I don't live on a farm so I can't give a real report until I get to the track or at least on dirt. :)
If anyone read my review on my #16 bike and #17 bike. Both bikes are identical in every way. Frank at Engine's Only put in 170cc kits in both. The #16 bike had massive amounts of low end, right off the bottom and still had tons of mids and high end. The low end, however, was insane.
The #17 was the same, but it lacked the low end. I think I finally figured out what was wrong.
I lagged on my review of Engine Only's 170cc kit because I wasn't 100% on the carb settings. I fiddled with a lot of setting, but I've been having a hard time fitting in riding time with my normal mortal life. You know; Work, family, etc.
Anyway, I think I finally got my carb settings correct and wow, what a difference. Right now, I think I might have that big low end and I'm thinking the mids and highs will even be better. I think I fixed it. Once I get a run in on the track, I'll fill you in.
May 31, 2006
Folks, get a load of this. This is a bunch of my friends on the 150's at the Stockton fairgrounds. It rained this day, but they decided to do the Supermoto run anyway. They didn't do the dirt section for obvious reason.
http://video.google.com/videoplay?docid=7056074838923374708&q=150+mafia
May 22, 2006
Hangtown? Naaa. I go every year, but I decided to pass this year. I went for a ride at Metcalf and I would like to say, I'm so happy I did. Folks, I'm a bit busy right now, but I'm going to post a clear review on my 170 kit. I've said a little, but I really got a chance to really open it up with my carb set. I need to give it a fair review.
Oh man, what a blast. In short, my bike rips, plan and simple. I'll be sharing that info inside the "engine mods" area soon.
Frank (at EO), dude, it was so much fun. Thanks. I quit riding on Friday, not because of the rain, which just started to fall, but because of the blisters on my hands. I can't even type right now. Anyway, it rips.
April 24, 2006
Finally!!! I finally got a chance to go out and ride. I went to Hollister, Ca. To my surprise, it wasn't packed. Blew me away. I didn't have much to say, but I thought I better type something since I know a few people have been waiting to hear how my bike is these days.
I hit the trails and finally got to test out a few things. My footpegs worked pretty good. That was nice.
My revalved forks were a little stiff for that type of riding. I think they are more set up for tracks and big jumps. I'm sure all the other CR80 conversion people would love them though because I know everyone else is looking for a stiffer ride. Personally, I like a plush ride. I'm out of shape though so I'll have to fiddle with my own physical shape first.
The engine mods really make a difference in problem areas. Before, if I made a mistake on an uphill, I'd still make it, but not with speed of any sort. Now, I can make all the mistakes I want and still pull up the hill. I do have to watch for wheelies if I sit back though. I'm running a stock carb right now, but that was only to check its characteristics. I will put my 26mm back in next week. My brother will put in his 28mm carb and it should rip.
Our bikes have always had different characteristics. His rides like most CRF150's. Mine rides like it has a lightened flywheel. A lot more 2 stroke feel to it. I have no idea why. His bike with the 28mm will be insane. Wheelies like mad, without the clutch. It's really weird, but in a good way. I use a lot of clutch work so I like how my bike runs. It is different though. Anyway, if anyone wanted to know about the engine mods, it appears they turned out well.
I'm entitled to Jerry rigging at least once, aren't I?
April 14, 2006
I told you it's bad when I get bored.  If it wouldn't rain so much, I wouldn't do things like this.  Actually, rain brings more ruts so maybe I would?  I don't know.
O.K. this was a silly thing to do, but I got bored and I think I've exhausted myself in finding someone that will make a wider footpeg for the CRF150.  Fastway makes one, but it's an inch lower than the stockers.  What's the point?  Idiots!. 
The pegs are already too low if it's rutted so that wouldn't work.  Oh well, I went into the garage and this is what happen.  I promise I won't do anymore rig jobs. 
They work pretty good and if I welded it on instead of bolting it, I'd put my name on them, but I don't have a welding so that's out and I'm sure I'll take a beating for them and be labled a "rib job."  Oh well, I'd still do it again.  :)
I should note that I only extended the rear of the peg and not the front because I didn't have a extended shifter.  I need a little room to get my boot in there to shift so that's why I did that. 
Yes, there was some thought put into it.  That was actually the fourth proto-type idea.  The second best idea raised your peg about 3/8" and I didn't want to raise it . . . yet. hahaha.
April 13, 2006
Since the weather has made it totally useless to ride (rained 24 days of the last month and still going), I got bored. 
Two things have taken place.  One, I'm selling a bunch of CRF150 parts (mine and some friends) and I'm making wider footpegs.  I'll have to take some pics of the footpegs and post them here soon.  It was just out of boredom.
Take a look at the parts.  There might be something you might want.
April 3, 2006
Should I just give up?  I just saw the weather forecast.  It will rain all week.  This is killing me.  It's very dangerous too because when I don't ride for this long, I tinker with stuff that I don't need to fiddle with like lubing the chain again.
What am I doing while it rains?  I'm working on making some wider footpegs. I'm bored!!!!  What do you expect?
If the rain keeps up, I may finish these faster than I had expected.  If you "tinkerer's" out there have the same weather problem I'm having, head's up.  I have to get over to the hareware store for some stuff.  I might have new foot pegs the next time you read this site.
Today is March 28 and all I can say is, "Please let it stop raining."  I just look at my bike and wait.  I'm waiting.
Today's Feb. 27th and I'm dying to go ride. 
It's not going to happen soon though.  It's raining pretty bad so the tracks are not letting people ride right now.  Oh well.  Looks like it's time to clean.  Hang tight.  When I do get a chance to go riding, I'll let everyone know how it goes.
Today it's Feb. 3rd. and I'd like to finish this week with a more positive post.
On the last post, you might be able to tell, I was a bit pissed.  The goal of my posting this was to assist people with my learnings, not to slam on people.
Frank Nye got wind of my post and asked that I call.  Remember, I did said, he's a good guy.  We talked and it appears I should have called him.  I described what was happening and it said it was fine. 
Frank said the tapping I was hearing was a good thing.  "A loose valve is a happy valve."  He said you have to worry when it's tight. 
I think I might have jumped the gun.  Sorry about that Frank.  I should have just called.
When I realized what was wrong with my bike, I didn't bother to call him.  Yeah.  I was pissed and I didn't really want to talk to anybody.  More so, I wanted to fix it myself.  I went on-line, asked friends, and learned how to adjust my valves. 
To my surprise, it was easier than I thought.  I've only rode it down the street, but I believe the tapping from the valves is resolved. 
It's superbowl weekend so I don't know if I can get out to the track, but as soon as I do, I'll fill everyone in.  And yes, it's killing me.  I'm dying to ride.
I've made a few adjustments to my carb so we'll see how it goes. 
Today is 12/19/05. 
I got my engine back from Engine's Only.  Frank at EO did the following to my engine:
-170 bore kit
-stage two cam
-new clutch and removed the judder spring
-new valves
And I'm also installing a CRF230 carb and a BBR 26mm carb (Yes, I have two CRF150's.  Don't tell anyone.) 
I'm hoping I don't have too many issues with the jetting, but we'll see.  It's pouring rain and the holidays are going to make it hard to get out to the track.  Once I get out there though, I'll fill all of you in.  Keep in mind that I do plan on breaking it in correctly so it will take some time.  BUT I'll get a review to everyone as soon as I can.
So far, I'll I can tell you is that Frank at EO completed the work on my engine in one week!  That was really nice.  Frank's a good guy.  I'm hoping his work is as good as he is.  If it is, I'll be stoked. 
Frank felt these mods would be felt everywhere.  By nature, I'm a very skeptical person so I just have to see for myself. 
We're figuring about 3hp from the piston and 2-3 from the cam.  My bike was also ported a long time ago.  Without the 170 kit and cam, the porting moved the powerband.  It raised it.  The powerband was much higher in the rev so it was key that I got the rev box.  I'm told that now that I have the 170 kit and cam, the porting will really shine.  We'll see

I've last updated this site 12/6/05. 
Well, I didn't have much to add today, but I will.  I finally got the nerve to step up and go do some engine mods.  Engine's Only will be doing a 170cc kit, stage two cam, and while I'm at it, I'll get a new clutch.  When I get it in, I'll give a full report.
Hopefully, it's cool, but I'll have to see for myself.  I don't want to give it the thumbs up just because I spend a lot of money.  More so, I'll try to give a true report.  Hopefully this mod will be in and I'll be able to give it a review before year-end.
Enter supporting content here
Enter content here